Central - Bloordale Village, Dovercourt, Wallace Emerson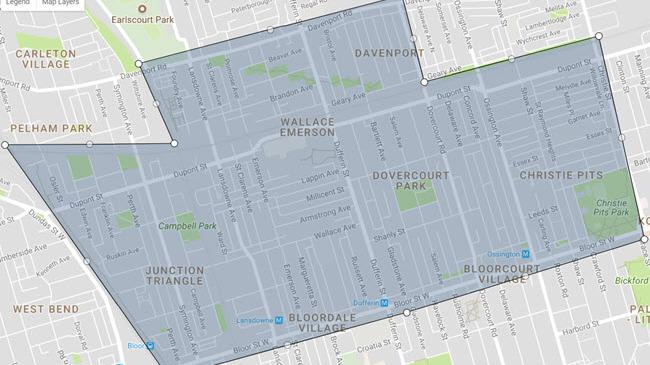 Bloordale Village, Dovercourt, Wallace Emerson
Bloordale Village, Dovercourt, Wallace Emerson
The west-end Toronto neighbourhood of Dovercourt-Wallace Emerson Junction is not far from the centre of downtown Toronto and includes a number of smaller communities, such as Bloordale Village, Bloorcourt, Dovercourt, Wallace Emerson and the Junction Triangle. It boasts:
Walkable, tree-lined streets with local cafes and markets only a short distance away.

Dovercourt-Wallace Emerson Junction got its start in the late 1800s as an industrial area close to the railways and factories.

It was originally home to many immigrants and later became popular with Portuguese, Italians, Spanish, Asians and Ethiopians.

The neighbourhood has a mixed income and multi-cultural combination found amongst its residents.
The Wallace Emerson neighbourhood owes its development to the Canadian Pacific and Canadian National railway lines which began freight services to this area in the late 1800's. The railways attracted industries to the Wallace Emerson area which in turn led to the residential development of what historically has been a working class neighbourhood. Now:
There is an array of cafes, eateries and established restaurants, vintage shops, galleries and fruit markets.

The local residents and businesses participate in an annual street festival called 'Big on Bloor' featuring art, music and international food.

It is located in the close to the heart of Downtown Toronto, in the West side. 
Becoming more popular for its new coffee shops, markets, restaurants, bars, yoga/pilates studios, and other stylish boutiques and galleries.
Real Estate
The main features are:
The treed residential streets have a close family and community feel with a blend of the original multi-cultural families and the new hipsters that are moving in.

The housing stock is a combination of older detached and semis that are taking on a new look and feel with contemporary renovations

Newer townhouses and converted lofts are an option for buyers that are adverse to updating or renovating.

The Dovercourt-Wallace Emerson Junction area is unique in having a number of industrial and heritage buildings converted to condo Lofts.
Schools
How to find the school closest to you!
Click on the link below to find the Public Schools closest to your home:
TDSB Find Your School
Click on this link to find the Catholic Schools closest to your home:
TCDSB Find Your School
List of Some Schools
École élémentaire Charles Sauriol (55 Pelham Ave)

St Rita Catholic School (178 Edwin Ave)

St Josaphat Catholic School (55 Pelham Ave)

St Luigi Catholic School (2 Ruskin Ave)

Perth Avenue Junior Public School (14 Ruskin Ave)

St Mary of the Angels Catholic School (1477 Dufferin St)

Dovercourt Public School (228 Bartlett Ave)

St Anthony Catholic School (130 Shanly St)

Pauline Junior Public School (100 Pauline Ave)

Keny Senior Public School (980 Dufferin St)

ALPHA II Alternative School (980 Dufferin St)

St Raymond Catholic School (270 Barton Ave)

Hawthorne II Bilingual Alternative Junior School (50 Essex St)