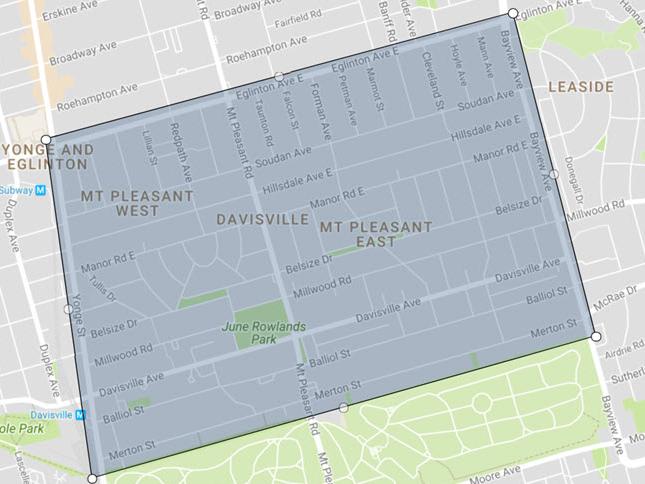 Central - Davisville
DAVISVILLE VILLAGE is named after John Davis, who immigrated to Canada from Staffordshire, England in 1840 and took an active public role in the community, becoming its largest employer. In fact, the former Davisville Post Office once operated by John Davis and later by his grandson, is still standing on the northeast corner of Yonge & Davisville.

This centrally-located neighbourhood has always been popular with singles, young couples and families for its excellent recreational facilities, outstanding shopping districts, and active nightlife, which includes bars, pubs, restaurants, dinner theatre, clubs, and movie theatres. Business and professional services such as banking, health & dental care, printing etc. are widely available on Yonge Street between St. Clair and Eglinton Avenues.

Davisville also has an active nightlife with many pubs, restaurants, and movie theatres. Davisville Village's main shopping district is on Mount Pleasant Road. This shopping district is known as Mount Pleasant Village where you will find some of Toronto's best restaurants and cafes as well as specialty food shops. This stretch of stores is also highlighted by a large group of antique and collectable shops that attract people from all over the city. Home decorating stores, children's clothing and toy stores, a neighbourhood library and an old fashioned movie theatre all add to the ambience of this street.

Davisville Park is the social and recreational centre of this neighbourhood. During the day, it is a beehive of activity with preschoolers enjoying the Davisville Park playground and wading pool. 
Real Estate
If you're looking for a quieter area in Toronto with easy access to services without having to live downtown then Davisville Village is the perfect choice. One of the more affordable neighbourhoods, it offers its residents close proximity to every amenity including restaurants, clubs, movie theaters, grocery stores, drug stores, banks, healthcare, an active nightlife, an outstanding shopping district and easy access to the Davisville subway. 
Schools
Family-friendly Davisville offers an excellent selection of public school education, especially at the Junior/Elementary level.
Davisville Junior Public School
Grades JK – 6
Maurice Cody Junior Public School
Grades JK – 6
Eglinton Junior Public School
Grades JK – 6

St. Monica Catholic School 

Hodgson Senior Public School
Grades 7 – 8
Northern Secondary School
Grades 9 – 12
North Toronto Collegiate Institute
Grades 9 – 12
Greenwood College School
Grades 7 – 12 (Private)
Sunnybrook School
Grades JK – 6 (Private)