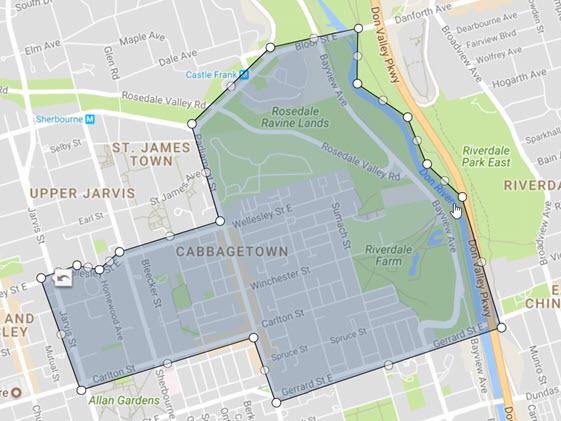 Central Cabbagetown
CABBAGETOWN's history began in the 1840's when thousands of Irish immigrants settled here after fleeing the potato famine in their homeland. To put food on the table they grew cabbages on their front lawns, which is how this district came to be known as Cabbagetown. The neighbourhood flag, a green cabbage on a white background, can be seen flying, usually bestowed on a home or shop owner for architectural or design excellence.

Old Cabbagetown
Cabbagetown is one of Toronto's most popular neighbourhoods. Its residents come from a wide variety of backgrounds, however they all share a strong sense of community spirit and pride in their neighbourhood. 

The Cabbagetown neighbourhood was once described by the New York Times as "containing the largest collection of Victorian homes in North America".
Cabbagetown's houses were built between 1860 and 1895. Most of these houses have been lovingly restored under the watchful eye of the Cabbagetown Preservation Association. The Association, comprised of local residents, plays a vital role in ensuring that all Cabbagetown renovations and new developments are in keeping with this historical neighbourhood.

The 'Old Cabbagetown' shopping district on Parliament Street features many one-of-a-kind shops and a vast array of restaurants. The Carlton Street shopping district is similar in tone to Parliament Street, but on a much smaller scale.

Cabbagetown also has small retail pockets on Gerrard Street, Sherbourne Street, and Wellesley Avenue. Cabbagetown's recreational centre is Riverdale Park. This park is the home of Riverdale Farm. Riverdale Farm is modelled after a late 19th century Victorian farm.

Schools
How to find the school closest to you!
Click on the link below to find the Public Schools closest to your home:
TDSB Find Your School
Click on this link to find the Catholic Schools closest to your home:
TCDSB Find Your School

Schools
Lord Dufferin Junior and Senior Public School is located south of Gerrard Street. It was completely renovated and expanded in 1999 to serve students throughout the area.

Nelson Mandela Park Public School is located on Shuter Street, south of Regent Park, with a broad multicultural mix of students from the area.

Our Lady of Lourdes Catholic School (junior kindergarten to grade 8) was originally located on Winchester Street in Cabbagetown. 100+ years later, the school occupies modern facilities at 444 Sherbourne Street, just south of Wellesley Street, on the western edge of the neighbourhood. In 2005, St. Martin's school on Salisbury Street in Cabbagetown was closed and the students and staff became part of the Our Lady of Lourdes school community. Presently, St. Martin now serves as an Alternative Pupil Placement for Limited Expelled Students (A.P.P.L.E.) program run through Monsignor Fraser College for students who are on a limited expulsion.

Rose Avenue Public School is located in the centre of the St. Jamestown apartment complex, south of Bloor Street, north of Wellesley Street and west of Parliament Street.

Winchester Junior & Senior Public School is a public elementary and middle school on Prospect St. The school provides 

French Immersion

 and has a Toddler Learning Centre, and it partners in an 

after school program

 with the Cabbagetown Youth Centre. This school is over 125 years old. Winchester School 

Community Garden

 is home to the Green Thumbs Growing Kids' flagship school food garden. The school is bordered by Rose Avenue to the east and Winchester St. to the south.