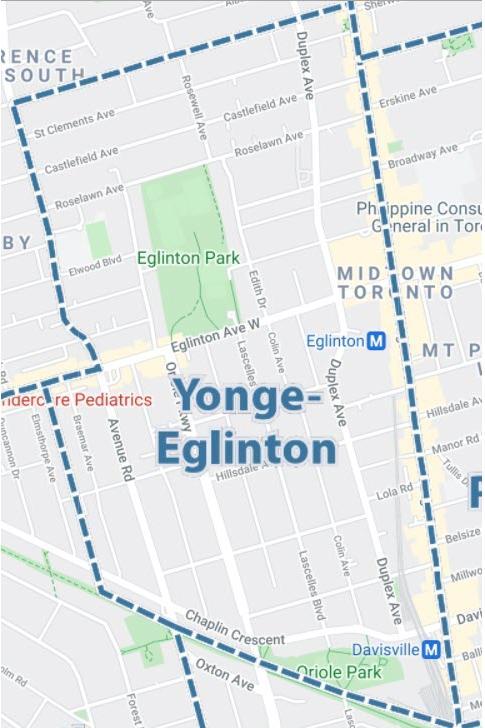 Central - Yonge-Eglinton
Yonge-Eglinton
The growing neighbourhood of Yonge-Eglinton is an eclectic and exciting mix of high and low-rise residential and retail.
Bounded roughly by Yonge Street to the east, Avenue Road and Elmsthorpe Avenue to the west, Briar Hill Avenue to the north and the Kay Gardner Beltline Trail to the south, the neighbourhood is neatly bisected by
Eglinton Avenue.
Recently Toronto Life Magazine ranked the Yonge and Eglinton neighbourhood 4th in the "Best Places To Live in the City", out of 140 Toronto neighbourhoods. With immediate access to the subway and now the upcoming Eglinton Crosstown LRT train line – this area is fast becoming a major hub in the city. It has been identified by Metrolinx as a "Place to Grow Mobility Hub".  Of course, there's plenty of reason to stay near right in neighbourhood.  With a such a wide variety of options right here, this Mount Pleasant West neighbourhood was rated a Walker's Paradise, with a walkscore of 95!
Eglinton Park and Oriole Park provide sizable green spaces in which local residents can relax and play. Neighbourhood schools include Oriole Park Public School, St. Clements School and Marshall McLuhan Catholic Secondary School, while the area is served by Northern District Library.
Major transit options servicing the area include the Yonge subway, with Eglinton and Davisville stations occurring along its eastern border, and the Eglinton West bus, which will be replaced by the Eglinton Crosstown LRT.
Here, Yonge Street offers excellent shopping along with some of the best restaurants, sandwich shops, pubs and bars in the city. Mature tree-lined residential streets are lined with charming homes and apartments. Some of the city's finest schools, such as North Toronto Collegiate Institute, are located nearby. Major developments are also underway with a $100 million upgrade to the Yonge-Eglinton Centre and a new 2 million sq. ft. retail/commercial complex being planned across the street by Cadillac Fairview.  The City has also weighed in on this area by rating Yonge-Eglinton as having the highest rating of overall satisfaction with services and amenities in their "living in Downtown and Centres" report.
Schools
If you wish to find all the schools that service a particular street address, go to the Schools tab on this website.
 
| | | |
| --- | --- | --- |
| School Name | Address | Phone number |
| North Toronto Collegiate Institute | 70 Roehampton Ave   | 416-393-9180 |
| Daisville JR PS | 43 Millwood Rd | 416-393-0570 |
| Forest Hill Collegiate Institute | 730 Eglinton Ave W | 416-393-1860 |
| John Fisher Jr PS | 40 Erskine Ave | 416-393-0643 |
| Eglinton Jr PS | 223 Eglinton Ave E | 416-393-9315 |
| Northern Secondary School | 851 Mt Pleasant Rd | 416-393-0270 |
| Marshall McLuhan Catholic Secondary | 1107 Avenue Rd | 416-393-5561 |
| Oriole Park PS | 80 Braemar Ave | 416-393-9215 |
| Kohai Educational Centre | 41 Roehampton Ave | 416-489-3636 |
| The School of the Liberal Arts | 36 Eglinton Ave W | 416-489-7652 |
| St. Monica Catholic Elementary | 14 Broadview Ave | 416-393-5224 |
| Toronto Alternative High School | 151 Eglinton Ave | 416-488-7520 |
| Eglinton JR PS | 223 Eglinton Ave. W. | 416-393-9315 |
| The York School | 1320 Yonge St | 416-926-1325 |
| Spectrum Alternative School Sr | 223 Eglinton Ave E | 416-393-9311 |
Catholic Schools
ÉÉC du Sacré-Coeur-Toronto
CATHOLIC GRADE PK - 6
ÉÉC Saint-Noël-Chabanel-Toronto
CATHOLIC GRADE PK - 6
Holy Rosary Catholic School
CATHOLIC GRADE PK - 8
St. Monica Catholic School
CATHOLIC GRADE PK - 8