West - New Toronto, Mimico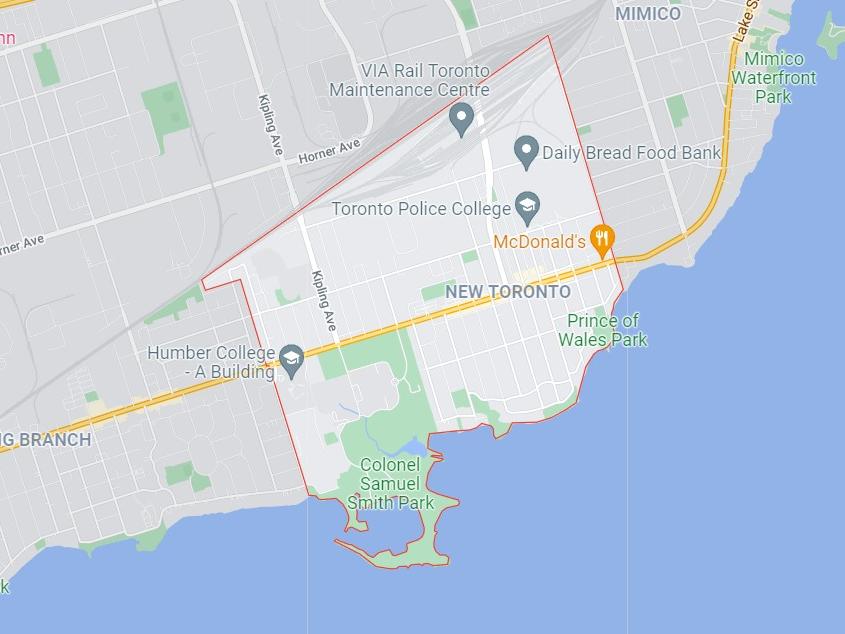 West - New Toronto, Mimico
New Toronto, Mimico
New Toronto, Mimico is the gateway to Toronto's west-end waterfront neighbourhoods:
This established community is well known for it's scenic lakefront parks and excellent recreational facilities.

This neighbourhood is within a short commute of downtown Toronto and features its own Go Transit train station located on Royal York Road.
Mimico residents come out in droves to show their community spirit at a number of local events including the annual "Lakeshore Community Festival" and the Etobicoke-Lakeshore Christmas Parade. 
New Toronto boasts of waterfront parks. Colonel Samuel Smith Park includes the first Wetlands-Wildlife Restoration trail on the Great Lakes. This wetland habitat is home to a large variety of fish and birds, as well as frogs, garter snakes, painted turtles and a vast array of wildflowers. 
Smaller waterfront parks, east of Colonel Samuel Smith Park, include Cliff Lumsden Park, Prince of Wales Park and Rotary Peace Park. Adjacent to this park, overlooking Lake Ontario, is the New Toronto Lawn Bowling Club. The Lakeshore Yacht Club is also based in this park.
Schools
Public School Locator


Click on this link


Catholic School Locator


Click on this link



New Toronto's high school, now called Lakeshore Collegiate Institute, was originally built and operated as New Toronto Secondary School with first classes beginning in 1950.
George R. Gauld Junior School (JK-5)

David Hornell Junior School (J-5)

John English Junior Middle School (JK-8)

Second Street Junior Middle School (JK-8)

James S. Bell Junior Middle School (JK-8)

Seventh Street Junior School (JK-5)

Lakeshore Collegiate Institute (9-12)

St. Leo (Catholic Elementary)

St. Theresa (Catholic Elementary)

Father John Redmond (Catholic Secondary)
Real Estate
Mimico real estate has a mix of family homes, including detached, semi-detached, and townhomes, as well as new apartment buildings. There are also many new condo buildings going up by the water that will suit a variety of buyers.