West - The Community of Lambton, Baby Point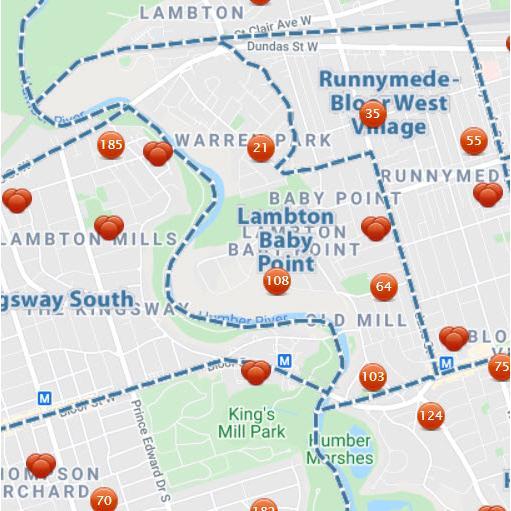 West - The Community of Lambton, Baby Point
Lambton, Baby Point
Lambton, Baby Point is a wealthy residential neighbourhood  bounded on the west by the Humber River. The neighbourhood was at one time an Iroquois village. In the 19th century, lawyer James Baby bought the land from the Upper Canada government, which had bought it as part of the Toronto Purchase. The land was developed into the current neighbourhood in the early 20th Century. The name is pronounced by locals as "Babby" Point, to rhyme with tabby or cabbie, in an approximation of how James Baby pronounced his surname. Stone gates at the intersection of Jane Street and Baby Point Road mark the entrance to the Baby Point enclave, which could be said to be a precursor to modern gated communities.

Real Estate
The larger homes tend to back onto the Humber Valley ravine and are found along Baby Point Road and Baby Point Crescent, while the smaller homes are found near the Jane Street and Baby Point Road entrance. Most of the homes in the enclave were built in the 1920s and 1930s. 

Schools
There is a great mix of schools in the area:
High Park Day School, an elementary school that features a progressive curriculum and personalized learning

St. Pius X, Catholic  elementary school, as there has been such a large demand for spaces, has recently completed a large renovation.

Humbercrest PS, rated by the Fraser Institute at 8.3/10
Runnymede CI, Grades 9-12, features a Masters Program and a Communications Technology Program.

St James Catholic School, elementary
​​Schools
Public Schools Locator
Click on this link
Catholic Schools Locator
Click on this link
Shopping/Restaurants/Parks
There is an unusual mixture of specialty stores, antique shops, arts and crafts and an excellent collection of restaurants from many cultures. Fall Salmon Fishing in the Humber River at the Old Mill is fun for anglers and spectators alike.
Without a doubt one of the prettiest settings in Toronto has to be at the Humber River as it flows alongside Etienne Brule Park just below the historic Old Mill Inn and Spa.