Central - Rosedale, Moore Park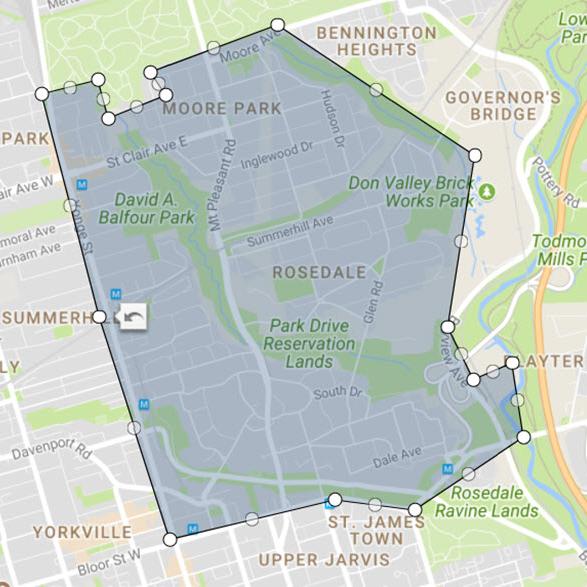 Rosedale and Moore Park
Rosedale and Moore Park, this exclusive midtown neighbourhood was subdivided in 1889 as a Toronto suburb for the very wealthy. Its namesake and creator was John Thomas Moore of Markham, Ontario, who held many prominent positions in business and political circles. He was a principal in the Alberta Central Railway and its president in 1911, and vice-president of the Belt Line Railway, a commuter line which once served the rapidly expanding suburbs north and west of the City of Toronto.

For over one hundred years Rosedale has held the distinction of being Toronto's most fashionable address. Many of Toronto's wealthiest and most prominent citizens reside in the Rosedale neighbourhood. Rosedale is unique in that it is surrounded by beautiful ravines and parkland that make you feel as if you are far away from the city, while in reality Rosedale is just a few minutes from Toronto's major business, entertainment, and shopping districts.

Rosedale is one of the city's oldest neighbourhoods. Many would say it is a vital part of Toronto's development: a neighbourhood that helps to define our unique city and adds to its charm. Rosedale's Victorian, Georgian, Tudor, and Edwardian style mansions were built between 1860 and 1930. Many Rosedale homes are listed on the Toronto Historical Board's Inventory of Heritage Properties.

South Rosedale also contains a number of condominium, co-operative, and co-ownership apartment buildings. These apartments provide a good entry into the neighbourhood. Rosedale residents living west of Mount Pleasant Road are within walking distance of the upscale shops and restaurants, located on Yonge Street, in the Summerhill area. 

Rosedale- Moore Park is traversed by a network of ancient ravines, including the Vale of Avoca, Moore Park, Park Drive and Rosedale Valley ravines. The beautiful trails in these ravines are enjoyed by nature, and fitness enthusiasts alike. Access points to Rosedale's ravine trails are located at designated spots throughout the neighbourhood. Rosedale Park, located off Schofield Avenue, has eight tennis courts, a sports field, an artificial ice rink, and a wading pool.

Moore Park is surrounded on all sides by natural barriers. With so much nature at its doorstep, it is not surprising that Moore Park is one of Toronto's most sought-after neighbourhoods.

Moore Park includes primarily English Cottage, Georgian, and Tudor-style houses built between 1908 and 1930. There are also a fair number of townhomes built in the 1970s and 1980s and a growing number of new custom homes. Moore Park lots vary in size but are generally quite large. Fifty-foot frontages are the norm on the more exclusive streets.