West - Islington-City Centre West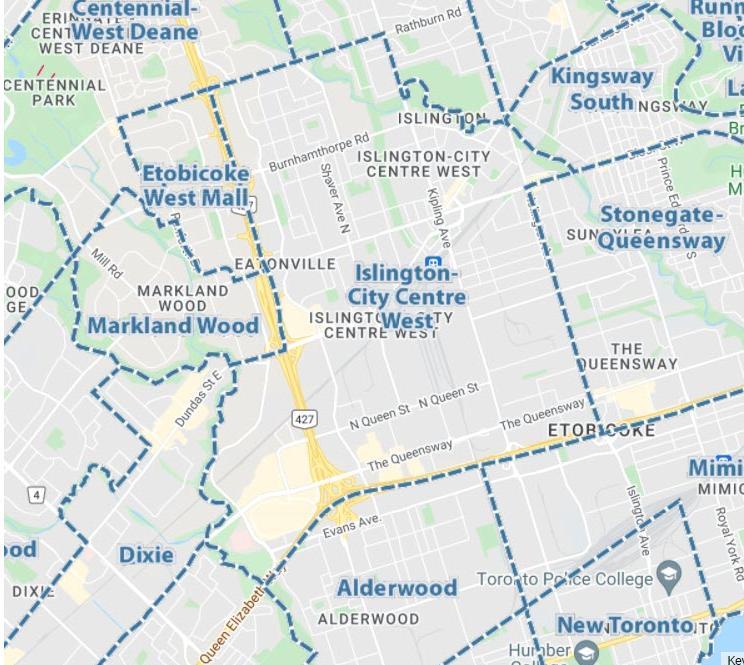 Islington-City Centre West (also known as Islington Village, Six Points or Etobicoke City Centre) is a commercial and residential neighbourhood in Etobicoke, Toronto, Ontario, Canada. It is bounded by Rathburn Road to the north, Islington Avenue to the east, Bloor Street to the south, Mimico Creek to the west.
Islington centres on a commercial strip along Dundas Street West (originally The Governor's Road, the first highway connecting Toronto to London, Ontario) which runs along an escarpment (the Lake Iroquois Shoreline, ancient shore of Lake Iroquois) across the width of Etobicoke.

To the west where Kipling Avenue crosses Dundas Street West (and Bloor Street West) is the Six Points intersection, the central point in Etobicoke's grid. Etobicoke was officially incorporated as a township in 1850, first using Montgomery's Inn for its meetings until the nearby original Methodist Church was purchased.

The main features of Islington City Centre West are:
Montgomery's Inn has been preserved as the Etobicoke Community Museum and is open to the public.
Sherway Gardens and Cloverdale (two of the most well-known malls in Toronto) can be found nearby.
There's also a large assortment of big box stores in the area, which is perfect for those who drive.
Islington City Centre West also features:
-
Many green spaces. 
Tom Riley Park
, a 7.8 hectare area on Bloor Street West, is especially impressive. This local gem features baseball and tennis facilities as well as a pool, making it perfect for active families.
- The Islington Golf Club,
 which has been around since 1923, is another major draw. Designed by a well-known architect, the course here is both challenging and majestic. 
Real Estate Options
What makes this area so alluring for homeowners is:
that the post-war housing stock is built on larger plots of land than you would find in Toronto's central core. There are many bungalows throughout the area. The upside of these bungalows is similar to what occurred in Leaside over the last twenty years. Infills and top-ups were built as more wealth was accumulated by the local residents.
There are also a number of new condos and condo townhomes offering more affordable and modern amenities
Add in the ease of commuting with highway 427, QEW, and the Gardiner Expressway there is a great deal of upside for residents.
Schools
Public
Park Lawn Junior Middle School
GRADE PK - 8
Karen Kain School of the Arts
GRADE 6 - 8
Norseman Junior Middle School
GRADE PK - 8
Micheline-Saint-Cyr
GRADE PK - 6
Étienne Brûlé Junior School
GRADE PK - 5
Lambton-Kingsway Junior Middle School
GRADE PK - 8
Sunnylea Junior School
GRADE PK – 5
Catholic and Private Schools
Sainte-Marguerite-d'Youville
GRADE PK - 8
Holy Angels Catholic School
GRADE PK - 8
Josyf Cardinal Slipyj Catholic School
GRADE PK - 8
Our Lady of Sorrows Catholic School
GRADE PK - 8
St. Josaphat Catholic School
GRADE PK – 8
How to find the school closest to you!
Click on the link below to find the Public Schools closest to your home:
TDSB Find Your School
Click on this link to find the Catholic Schools closest to your home:
TCDSB Find Your School