West - The Community of Sunnylea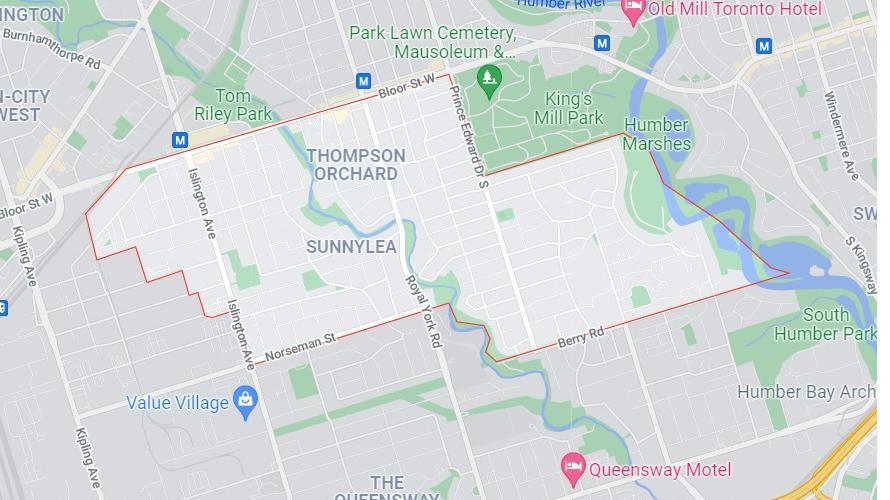 West - The Community of Sunnylea
Sunnylea is a well-treed mature neighbourhood that is bisected by the pretty Mimico Creek, and is popular with young families. The land was first settled by Alexander Thompson in 1803 which developed into fruit orchards and market gardens. The community was named Sunnylea in 1907 when its first school was built. Sunnylea's old farms were subdivided in the 1930s and 40s for new homes. Some of the original farmhouses can be found along Prince Edward Drive and Islington Avenue. 
Sunnylea residents have close access to the Kingsway Village shopping district (on Bloor Street West) with its brick sidewalks, cast iron street lamps and flags on the boulevard median. This district has high-end specialty shops and restaurants, as well as professional services.
The community has:
Lots of parks along the pretty Mimico Creek

Access to the paved recreational pathways along the Humber River.

The Norseman Community School, has an indoor pool with public swim programs.

Park Lawn Park has an outdoor pool and a winter ice arena that converts to summertime tennis courts.

Other parks provide children's playgrounds and there is a seniors centre.
Sunnylea is highly sought after thanks to the country charm of Mimico Creek which gently meanders through the centre of this neighbourhood. The many mature trees and the exclusion of sidewalks add to its country-like ambience.
Real Estate
Homes from the 1940s and 50s are typically bungalow, split-level, storey-and- a-half, and two-storey detached homes with a thirty foot frontage (or more) and a driveway. There are older and more elaborate Tudor style houses with riverstone exteriors, stone chimneys, and front porches.
The Thompson Orchard Community Association, which represents Sunnylea, has convinced the city to pass site specific zoning by-laws which protect the neighbourhood's residential character. Homes in this community are in the low-middle to high-middle price levels.
Schools
It is also known for its excellent schools which are a popular drawing card. Six schools serve the area, including the 3 public schools: Norseman, Park Lawn, and Sunnylea; 2 public high schools – Etobicoke C.I., and Etobicoke School of the Arts, and the separate school Sainte-Margueritte-d'Youville. Please click here to go onto 
The Toronto District School Board 
for your cachement.
Local schools list:
Norseman Junior Middle School (JK-8)

Sunnylea Junior School (JK-5)

Parklawn Junior Middle School (JK-8)

Etobicoke Collegiate Institute (9-12)

Karen Kain School of the Arts (6-8)

Etobicoke School of the Arts (9-12)

Etienne Brule Junior School (JK-5)

Our Lady of Sorrows (Catholic JK-8)

Our Lady of Peace (Catholic & French Immersion 2-8)

St. Gregory (Catholic & Extended French 5-8)

Bishop Allen Academy (Catholic Secondary)

Kingsway College School (private 1-8)
School Locators
Public Schools Locator
Click on this link
Catholic Schools Locator
Click on this link