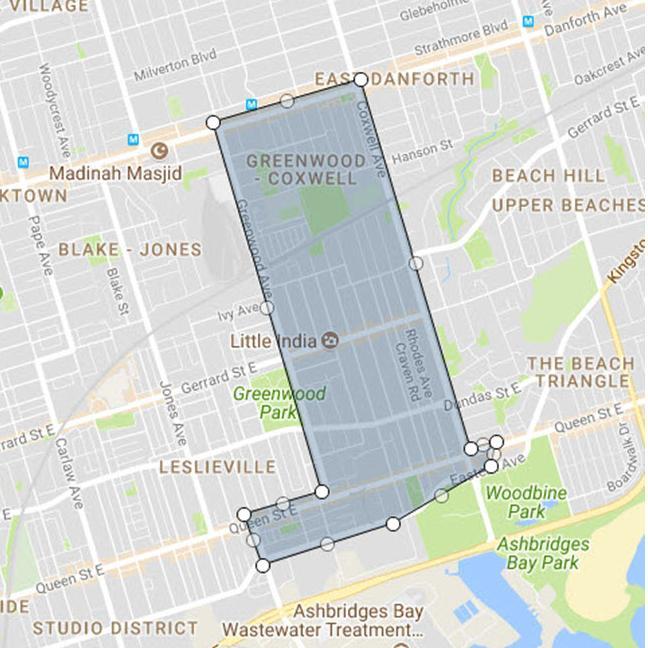 East - Greenwood Coxwell
East - Greenwood-Coxwell is one of the east end's most desirable and affordable neighbourhoods for young families as the majority of its housing stock is comprised of semi-detached homes and apartment dwellings five or more floors in height.

Encompassing portions of wards 29, 30 and 32, Greenwood-Coxwell is an emerging neighbourhood home to the notable communities of Little India and Leslieville.
Just east of downtown, the Greenwood-Coxwell neighbourhood is a popular spot for families and young professionals due to its proximity and accessibility to the city centre. From Danforth Ave. down to Eastern Ave., between Greenwood Ave. and Coxwell Ave., the area is serviced by streetcars on Queen, Dundas and Carlton Streets, the Bloor-Danforth subway in the north and buses running north-south. This largely residential and commercial area is also dotted with parkettes and borders Woodbine Park on the south side.
A hugely popular and vibrant area of this neighbourhood, for its plethora of authentic Indian dishes, the intersection of Greenwood Ave. and Gerrard Ave. draws Torontonians and tourists to the area known as Little India. 
Real Estate
The real estate prices in the Beaches and Riverdale left the realm of the reasonable long ago, but Greenwood-Coxwell, plunked right between them, is a much more ­realistic option. The perks extend beyond the lower prices: the commercial strip on Danforth Avenue, all but barren a decade ago, is now home to coffee shops, artisanal grocers and bakeries.