West - The Community of Longbranch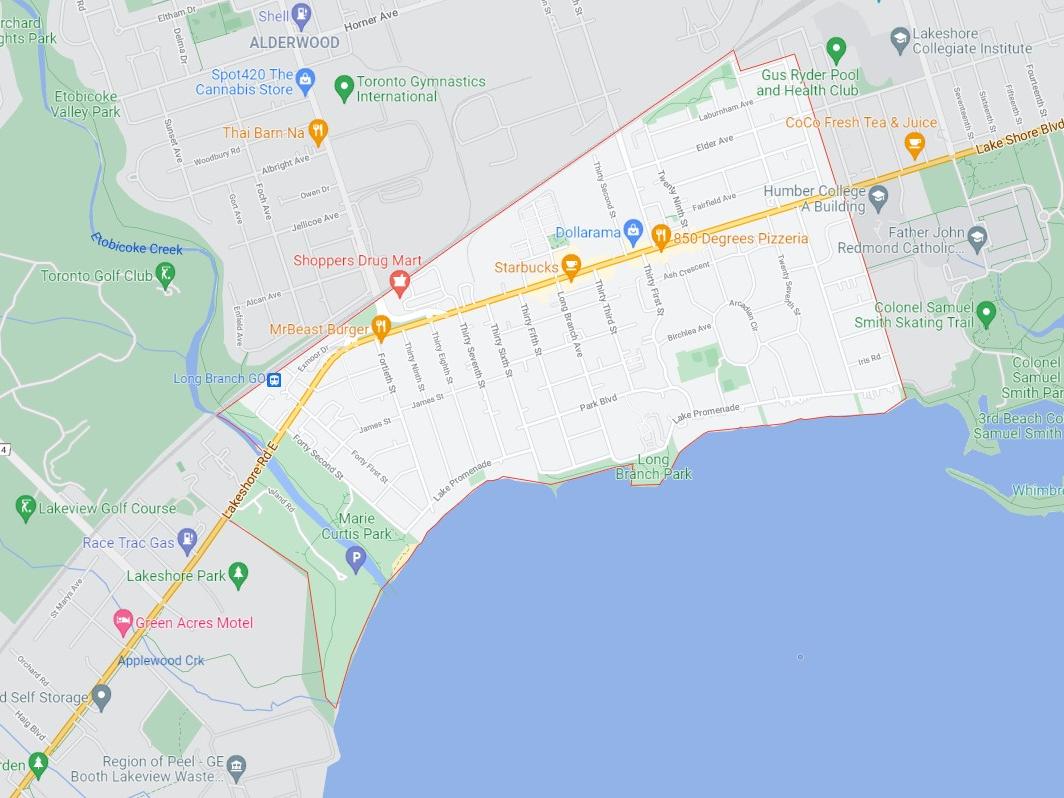 West - The Community of Longbranch
Long Branch
Long Branch with the shoreline of Lake Ontario to the south and Etobicoke Creek to the west, the natural beauty of Long Branch – which boasts tree lined streets and lovely parks – really sets the tone for this up-and-coming community. The neighbourhood is in transition with many new home developments being built along Lakeshore Boulevard.
This lakeside village is blessed with many fine attributes including picturesque waterfront parks, a local arena, a public library, a waterfront trail, a Go Transit station and a vibrant shopping district.
Although prices have risen over the past several years, houses are still reasonable by Toronto standards, considering the quick and easy access to downtown and abundance of greenspace around the area and available on house lots.  Long Branch is a commuter's paradise, with easy access to several major highways, a GO Transit train station, 24-hour TTC streetcar service and bus routes. 
Long Branch is sandwiched between two major waterfront parks. Marie Curtis Park is at the mouth of Etobicoke Creek, and has a boat ramp, children's splash pool and playground. This park is where the Toronto Waterfront Trail and the Etobicoke Creek Trail connect, providing access to many kilometers of paved recreational pathways. To the east is Colonel Samuel Smith Park, with its wetland habitat, interpretive trails, marina, and views of Lake Ontario and downtown Toronto. 

Long Branch Park on the waterfront has a park gazebo, used for summer concerts. Donald Russell Memorial Park north of Lakeshore has in indoor pool, a running tack, and an arena. The community also has two tennis courts and another arena used for ice hockey and ringette.
Real Estate
The communities largest and oldest homes are on Lake Promenade along the waterfront, some of which dating back to the early 1900s. As you move away from the lake the homes are newer, with the houses south Lake Shore Blvd dating to the period between the 1920s and 50s. Houses here are typically bungalows and 2-storey homes, with some modern semi-detached homes and duplexes. There are also some small apartment buildings along Lake Promenade. The homes north of Lake Shore Blvd are smaller, and on narrower lots, but well maintained. There are a number of newer townhouse and condo developments along Lake Shore Boulevard. Homes in this community are in the lower-mid to higher-mid price ranges.

Schools
Public Schools Locator
Click on this link
Catholic Schools Locator
Click on this link