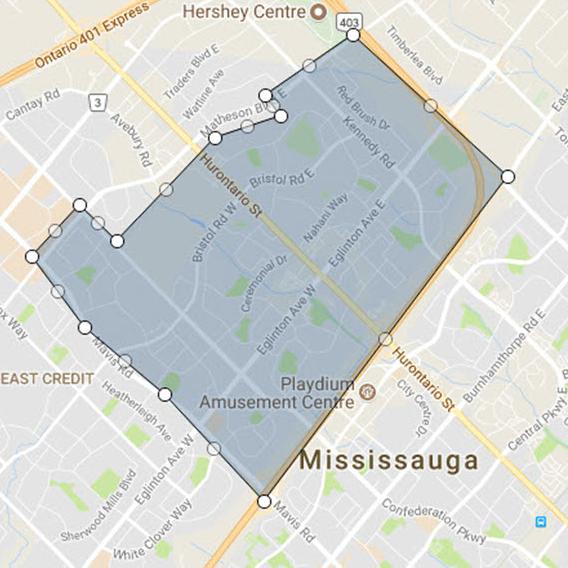 Mississauga - The Community of Hurontario
Hurontario
Hurontario is a large residential community located just north of the Mississauga City Centre. Built mostly from the 1980's to 2000's, Hurontario offers:
plenty of options for housing with great access to transit and amenities.

Homes in Hurontario are in high demand due to it's great location and access to amenities.

The planned Mississauga LRT that will run along Hurontario will definitely increase the desire for this location and have a positive effect on property values.

Hurontario has a large concentration of shopping and amenities located on Hurontario St. Everything from big box shopping, large and specialty grocery chains and retail. 
Real Estate
The Hurontario District has a community structure which provides for:
the establishment of a substantial resident population within close proximity to the City Centre.

Higher densities are planned near the City Centre boundaries and along major arterial roads and transit corridors.

The area surrounding the intersection of Eglinton Avenue and Hurontario Street is planned as a Multiple Use Centre where the majority of high density residential, office commercial and district commercial uses are to be located.
Schools
Hurontario is another neighbourhood where, depending on the street you live on, you could be in either a high-ranked school or a bottom feeder. For instance, those south of Eglinton and west of Hurontario get slotted into #25-ranked Huntington Ridge P.S., meanwhile east of Hurontario get slotted into #61 Nahani Way. For middle school, those west of Hurontario get into #5-ranked Fairwind Sr, meanwhile those east get put into #14 (out of 18) Bristol Road Middle.
How to find the school closest to you!
Click on the link below to find the Public Schools closest to your home:
TDSB Find Your School
Click on this link to find the Catholic Schools closest to your home:
TCDSB Find Your School