West - Princess Rosethorn
West - Princess Rosethorn
The Princess-Rosethorn Neighbourhood is a quiet mid-century era "suburb" located in Central Etobicoke. Much of the existing housing stock here consists of contemporary and ranch style bungalows, or split level style homes built between 1955 and 1965. Housing density is low (most homes are single family) with tranquil curved streetscapes, mature landscaping and wider lot frontages.  
Although a car-based community, there is reasonable bus service to wisk you to the Bloor subway line or GO station. It is approx. 30 minutes to drive to downtown Toronto from here. Shopping in the area is handy with nearby plazas such as Lloyd Manor plaza near Eglington, or smaller Thorncrest Plaza. The Lloyd Manor Plaza located at Lloyd Manor Road and Eglinton Avenue features a 24 hour Metro grocery store, CIBC bank, Shoppers Drug Mart, an optical store, a dry cleaner, a photo finishing shop, a variety store, and a wine shop. There are also many medical offices at this plaza. Residents of this neighbourhood also shop at the nearby ThorncrestPlaza on Islington Avenue at Rathburn Road, shown below.

Schools

How to find the school closest to you!
Click on the link below to find the Public Schools closest to your home:
TDSB Find Your School
Click on this link to find the Catholic Schools closest to your home:
TCDSB Find Your School


There are a number of good quality schools in the area, including Rosethorn Junior School, St. George's Junior School, and St Gregory Catholic. There is also Martingrove Collegiate Institute. This school is recognized provincially for academic excellence and for exceptional student and staff involvement. Over 80% of graduating students enter post-secondary institutions and two thirds of graduates are Ontario Scholars.
 
In the table below is some additional information about some of these schools with statistics collected in early 2018. The Average EQAO School Score in this neighbourhood is 88/100.
 
| | | | |
| --- | --- | --- | --- |
| School | Grades | EQAO 3-Yr  Score | EQAO GTA Rank |
| St. Georges Junior School | Elementary-Middle | 92 | 31 of 1621 |
| John G. Althouse Middle School | Elementary-Middle | 85 | 185 of 1621 |
| Richview Collegiate Institute | Secondary | 86 | 28 of 310 |
| Princess Margaret Junior School | Elementary-Middle | 87 | 127 of 1621 |
| St. Gregory Catholic School | Elementary-Middle | 82 | 330 of 1621 |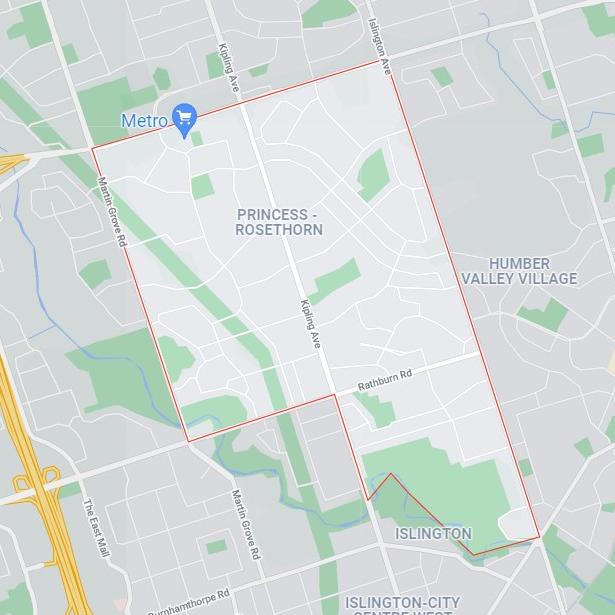 Summary
This neighbourhood is filled with beautiful and large parks. In the middle of the community is the large Princess Anne Park with baseball diamonds, soccer fields and lots of open play-space. Hampshire Heights Park follows Mimico Creek.
Princess-Rosethorn features many parks and schools and a Downtown lifestyle alternative, without giving up on accessibility to all of the services that Toronto has to offer!
Sold Prices Now Available