Central - Trinity Bellwoods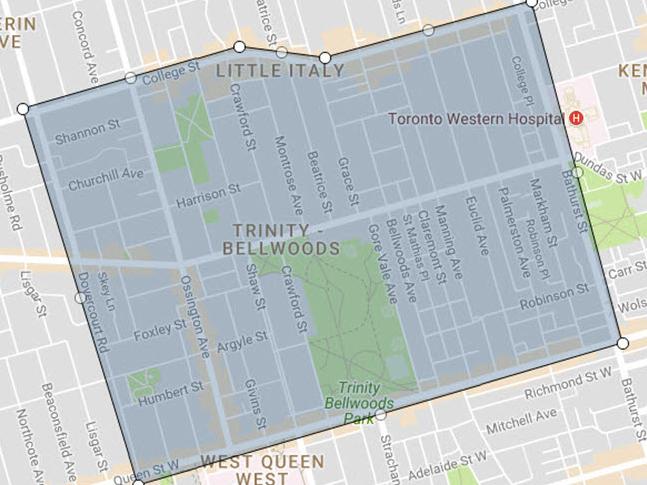 Trinity- Bellwoods
Trinity- Bellwoods takes its name from Trinity Bellwoods Park, built around the former Garrison Creek ravine. The park is bounded on the north by Dundas Street West and on the south by the Queen Street West district. The park sports a range of environments:
Including tennis courts,

a playground,

a hockey rink,

a dog walking bowl,

a grove, a range of picnic tables, a greenhouse, a community center, and a swimming pool.

The northwestern panhandle is home to a farmer's market on Tuesday afternoons from spring to fall.
Surrounding the park and with a long history, Trinity-Bellwoods has become one of Toronto's more desirable and vibrant communities.  It offers:
a cool selection of restaurants and retail stores.

This park was the original site of 

Trinity College

, one of the colleges that now make up the 

University of Toronto

. The college building, which was completed in 1852, stood roughly at the centre of the park, and remained there for just over 100 years. Today the only remaining artifacts of the school are its restored gates at the south end of the park.
By 1900, the college and its picturesque surroundings attracted residential development. Most of the surrounding streets were filled in with tall, narrow houses of the 
Bay-and-gable
 or 
Gothic Revival
 style characteristic of much of Toronto's housing stock from that era. A number of fine homes from the period are scattered throughout the neighborhood.

During the 20th century the neighborhood became a landing site for immigrants of various nationalities, setting a pattern for the next six to seven decades. From the 1920s and 1930s the area became home to many Polish and Ukrainian immigrants; the Bathurst-Queen area was the heart of the city's Polish and Ukrainian communities until the 1960s.

By the 1960s, the area had become popular among the immigrants from Portugal, who now define much of the neighborhood's character. In recent years, the area has become home to many Chinese immigrants.
The businesses along Ossington Avenue just north of Queen Street have changed in the last decade, with former sports bars and social clubs becoming trendy restaurants, bars and cafes. Some of this conversion has been due to higher commercial rents along Queen Street relative to Ossington Avenue properties. 
Real Estate
It is great place to live for families, great for singles, a lively community with interesting renovations, some high-end renovations and lots of walkable things to do for young and old.
Schools
How to find the school closest to you!
Click on the link below to find the Public Schools closest to your home:
TDSB Find Your School
Click on this link to find the Catholic Schools closest to your home:
TCDSB Find Your School

Schools in the area:
 

Pope Francis Catholic School

, Elementary

Charles G Fraser Jr. PS, 79 Manning Ave., tel. 416.393.1830

Givins/Shaw Jr. PS, 49 Givins St., tel. 416.393.1240

Senhor Santo Cristo Catholic School, 30 Humbert St., tel. 416.393.5367

Ecole Elementaire Pierre-Elliott-Trudeau, 65 Grace St., tel. 416.397.2097

St. Luke Separate School, 319 Ossington Ave.,tel. 416.393.5347

Ossington/Old Orchard Jr. PS, 380 Ossington Ave., tel. 416.393.0710

Oasis Alternative, 3rd floor, 20 Brant St., tel. 416.393.9830

St. Mary's Catholic Secondary School, 66 Dufferin Park Ave., tel. 416.393.5528

Harbord CI, 286 Harbord St., tel. 416.393.1650

Central Toronto Academy, 570 Shaw St., tel. 416.393.0030