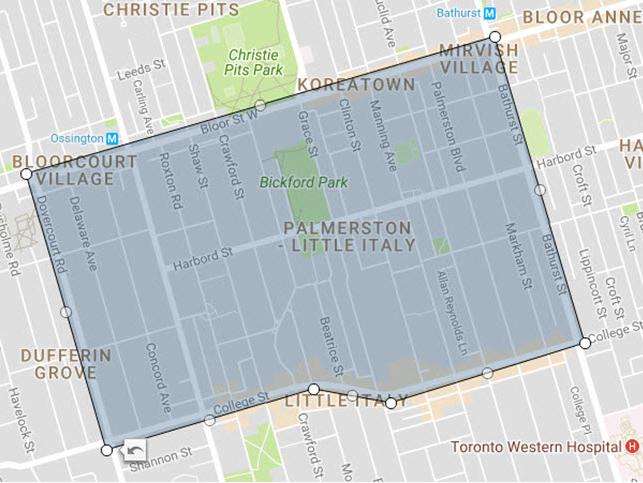 Palmerston, Little Italy
Palmerston, Little Italy
The neighbourhood of Palmerston, Little Italy occupies a west downtown area bounded by Dovercourt Road and Bathurst Street to the west and east and Bloor and College streets to the north and south.
Italians arrived in Toronto in large numbers during the early 20th century. Italians settled in two areas:
​
The affordable Edwardian homes that line the side streets of this neighbourhood were bought by Italian immigrants, many of whom found work on the railways and in road construction. Italians started businesses on and around College Street.
The College Street portion of the neighbourhood includes a large portion of Toronto's Little Italy, where the city's Italian community settled. It features a number of Italian bars and restaurants. 
The Little Italy neighbourhood is about as close as you can get to downtown living while maintaining the neighbourhood feel. This neighbourhood is great for families or seniors, and fun for young professionals who enjoy the excitement of living downtown. You definitely get the urban feel in this neighbourhood, similar to Little Portugal. Every year thousands of people enjoy street festivals, such as, Taste of Little Italy.

Schools

How to find the school closest to you!
Click on the link below to find the Public Schools closest to your home:
TDSB Find Your School
Click on this link to find the Catholic Schools closest to your home:
TCDSB Find Your School
LOCAL SCHOOLS
Ossington/Old Orchard Junior Public School (JK-6)

Dewson Street Junior Public School (JK-7)

Clinton Street Junior Public School (JK-6)

Central Commerce Collegiate Institute (9-12)

Harbord Collegiate Institute (9-12)

Central Technical School (9-12)

St. Luke (Catholic Elementary)

St. Francis of Assisi (Catholic Elementary)

Msgr. Fraser College-Alternative (Catholic Secondary)