West - The Community of High Park - Swansea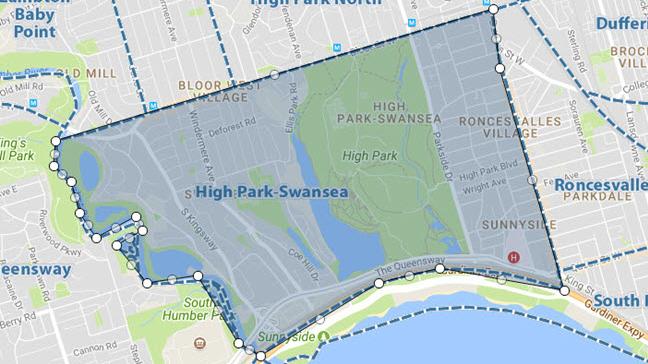 West - The Community of High Park - Swansea
High Park - Swansea
The Swansea area was first visited by Étienne Brûlé, who came to Canada with Samuel de Champlain in 1608 – over a century before the first French settlement was established in the area. Once settlers did start moving in, they allegedly compared the spot between the Humber River and Grenadier Pond to the Garden of Eden – eventually naming it Swansea in the early 1800s.
The Ellis family is an important one in Swansea's history, and you can find their name on a few streets in the neighbourhood. John Ellis and his wife Rhonda came to Canada in the 1830s and bought the land on the western shore of Grenadier Pond. Their home, the poetically named Herne Hill, stood on the ridge where the modern Grenadier Heights development is now, and their son, also John, was the draughtsman responsible for laying out the future village of Swansea.
Along with Forest Hill, Swansea was one of the very last independent villages to be swallowed into the amalgam of Toronto in the 1960s. It may be in part because of this that the neighbourhood still runs its own Town Hall – although 'Town Hall' is a rather grand term for what is, in fact, a very modest place sitting next to a senior's residence at 95 Lavinia Avenue. The same building also houses the Swansea Memorial Public Library, which is a branch of the Toronto Public Library and one of the two smallest ones in the city. Together they run:
A lot of the public programs as antique shows, craft sales,

Meetings of various local societies,

A wide variety of classes and lessons for all ages, and those associated with the local Senior's Association, which is particularly active.
Swansea is primarily residential in nature, consisting of a mix of various housing types. Swansea's high-end homes are located either at the western edge of 
High Park
overlooking Grenadier Pond, or on Riverside Drive and the Brule Gardens enclave bordering the Humber river. Swansea also contains a large number of 
semi-detached
houses and 
bungalows
 located mostly in the centre of the neighbourhood. The typical house of the area was built between 1905 and 1935.
Real Estate
This diverse neighbourhood features a large number of leases as well as sales. There are some neighbourhoods, close to parks or Grenadier pond that feature high-end listings.
Education
Swansea is served by a number of fine public and separate schools:
Swansea School

Runnymede Jr. & Sr. School

Park Lawn Jr. & Md. School

Humbercrest Public School

Western Technical-Commercial School

Humberside Collegiate Institute

Runnymede Collegiate Institute

Etobicoke School of the Arts

West Toronto Collegiate Institute
​Schools
Public Schools Locator
Click on this link
Catholic Schools Locator
Click on this link