Central - The Community of Little Portugal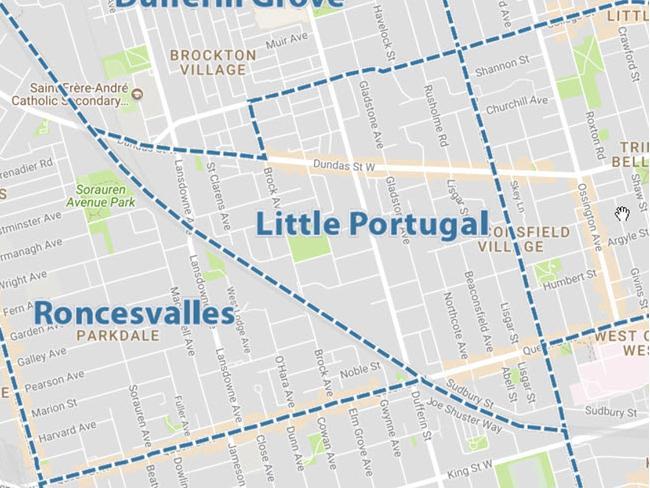 Little Portugal
Little Portugal
Characterized by the vibrant and colourful Portuguese community that still makes up a large part of its population, Toronto's Little Portugal neighbourhood is one of the city's most active and exciting areas:
Mixed with Italian, Brazilian and, increasingly, Asian populations

the area is also becoming home to a growing number of young professionals and artists

This part of Toronto hosts a growing segment of the city's cutting-edge artistic community.

Little Portugal also encompasses the urban oasis of Beaconsfield Village, with its quiet, leafy streets.

The whole of the neighbourhood has become a highly sought after destination for young professionals, especially those with families,
Real Estate
 The many beautiful houses range from the Gothic and Victorian semi-detached and rowhouses near Dundas to the larger two- and three- storey homes near Queen

A few luxury condo projects have taken root, the tree-lined streets have become even more attractive to those seeking Old World charm while remaining easily connected to the ultra-modern city.
This neighbourhood also features:
Trinity Bellwoods Park, where there's plenty of open space, tennis courts, a dog park, and a children's playground.

There are also a ton of great restaurants to try along Queen Street West,

You should also try one of the bakeries along Dundas Street.

Little Portugal is very walkable, with plenty of public transportation nearby with streetcars along Dundas, Queen, College, as well as the Bloor subway not too far North.
Schools
How to find the school closest to you!
Click on the link below to find the Public Schools closest to your home:
TDSB Find Your School
Click on this link to find the Catholic Schools closest to your home:
TCDSB Find Your School
Some schools in the area
The Grove Community School (JK-3)

Givins/Shaw Junior Public School (JK-6)

Parkdale Junior & Senior Public School (JK-8)

Parkdale Collegiate Institute (9-12)

Central Commerce Collegiate Institute (9-12)

Harbord Collegiate Institute (9-12)

Holy Family (Catholic Elementary)

Senhor Santo Cristo (Catholic Elementary). May be transformed to a community hub.

St. Luke (Catholic Elementary)

Bishop Marrocco/Thomas Merton (Catholic Secondary)