New Page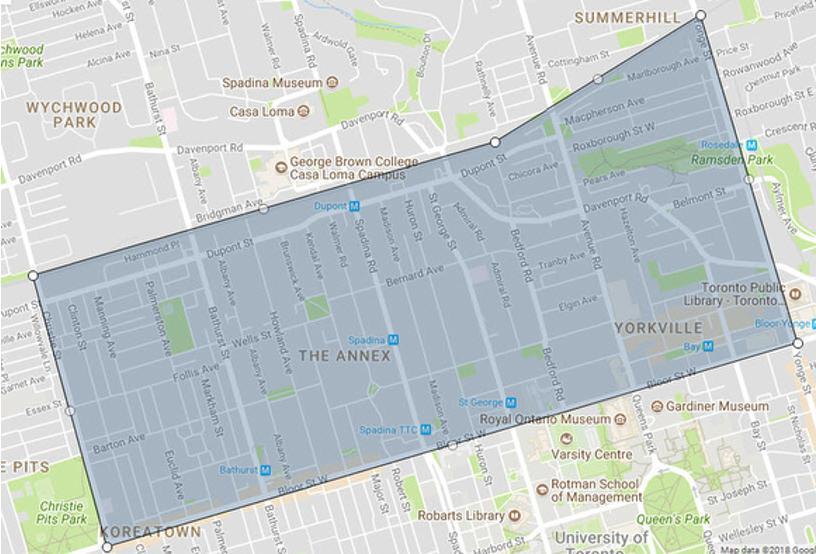 West - The Annex
The Annex is a neighbourhood in Downtown Toronto, Ontario, Canada. The traditional boundaries of the neighbourhood are north to Dupont Street, south to Bloor Street, west to Bathurst Street and east to Avenue Road. The City of Toronto recognizes a broader neighbourhood definition that includes the adjacent Seaton Village and Yorkville areas.
The Annex was subdivided in the 1870's and 1880's. It immediately became one of Toronto's elite neighbourhoods, whose first residents included the likes of Timothy Eaton and George Gooderham, president of the Gooderham and Worts Distillery. The Annex's Golden Era lasted until the 1920's, when the upper classes began to migrate northward to newer, more fashionable suburbs in Forest Hill and Lawrence Park.
The Annex has endured and is now over one hundred years old. It remains one of Toronto's premier neighbourhoods, drawing its energy from the University of Toronto and its strength from diversity. Its residents include prominent artists and writers such as Margaret Atwood, politicians, community leaders and successful business people, academics, media personalities, University of Toronto students and faculty, and people from all walks of life.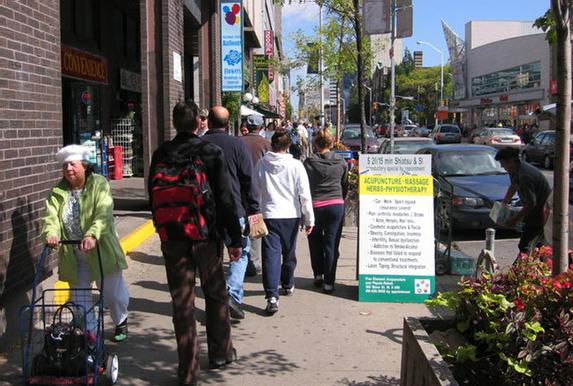 The 1950s and 1960s saw the replacement of some homes and mansions with mid-rise and a handful of high-rise apartment buildings in the International style. These were surrounded with landscaped green spaces in an attempt to better fit into the neighbourhood. But thanks to the Government freeze of development in 1975 for any buildings higher than 45 feet, most of the homes have been unscathed.  Because of its proximity to the university, the Annex has a high rate of seasonal tenant turnover, and its residents range from university students to older long-time residents. The Annex is by far the leader in diversity when compared to other city neighbourhoods in Canada, and arguably the United States too. The neighbourhood has a thriving cultural scene.
Real Estate
This neighbourhood features a large number of leases as well as sales. As it covers Yorkville there are included a large number of high-end listings. The table is based on the average price of Sales and Leases for the 3 months up to May 1, 2018:
| | | |
| --- | --- | --- |
| Type | Number | Average Sale/Lease Price |
| Condo Apt Sales | 83 | $1,153,430 |
| Detached | 6 | $3,413,667 |
| Semi-Detached | 16 | $2,214,400 |
| Condo Apt Leases | 108 | $3,385 |
| Semi-Detached Leases | 16 | $3,723 |
Education
Local acclaimed public schools include:
Huron St. Jr. School

Palmerston Ave. Jr. School

Jesse Ketchum Jr. & Sr. School

Lord Lansdowne Jr. & Sr. School

King Edward Jr. & Sr. School

Hawthorne Bilingual School

Clinton St. Jr. School

Central Technical School

Rosedale Heights School of the Arts

Harbord Collegiate Institute
Advanced Search
The range between minimum price and maximum price is incorrect. Please submit the correct range.
Sold Prices Now Available