West - The Community of High Park North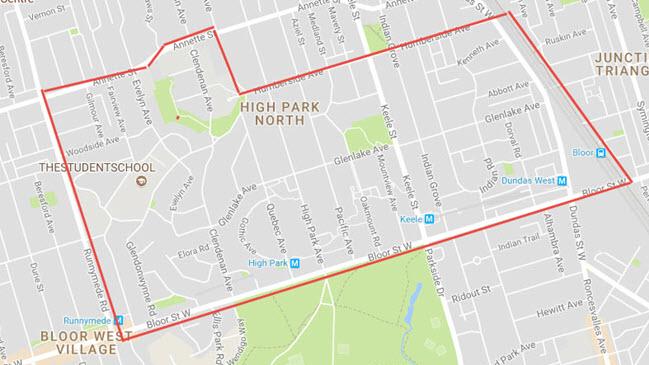 West - The Community of High Park North
High Park (High Park North) is a high end community, featuring a diverse housing mix. Families gravitate to the single family homes and the condos in the neighbourhood. There are also a large number of rental opportunities in High Park which appeal to singles and couples. The topography of the High Park neighbourhood features gently rolling hills, winding streets, and towering Oak trees that enchant and delight all those who live here.
What makes this neighbourhood so coveted is the that you can walk into the 400 acre High Park featuring many hiking trails, sports facilities, diverse vegetation, a beautiful lakefront, convenient parking, easy public transit access, a dog park, a zoo, playgrounds for children, a couple of eateries, greenhouses and picnic areas.

The Real Estate Scoop
This neighbourhood features a wide selection of Condo Apartments, semi-detached, detached homes and Condo Apartment Leases. 
Schools
Annette Junior and Senior Public School
Annette is a public elementary school. It shares its space with High Park Alternate School. The Fraser Institute rated it overall at 6.6 out of 10.
High Park Alternate School Jr
High Park Alternate shares its space with Annette School on Annette Street.
Humberside Collegiate Institute
Humberside is a large public high school located on Quebec Avenue at the intersection of Humberside Avenue.  Humberside was established in 1892 and has an academic program for students in grades 9 through 12. In addition to the regular curriculum, the school has a strong music program, as well as an Extended French and French Immersion program. It is a non-semestered school.  In grade ten in the "double math" program, classes switch from Advanced Functions in January to Calculus and Vectors).
The new school was built in 1964. Indian Road Crescent serves students from Junior Kindergarten to Grade 6.[2]
The school is also home to an Ontario Family Resource/Parenting Centre
Keele Street Community School and Community Centre
Keele is a public elementary school which shares its space with a community centre. It is located along the west side of Keele Street north of Bloor Street.
Western Technical-Commercial School
Western Tech is a large high school located on Evelyn Crescent north-west of High Park.
Catholic Schools
St. Cecilia School is an elementary school located on Annette Street. It offers a Junior Kindergarten to Grade 8 program.