King West and Liberty Village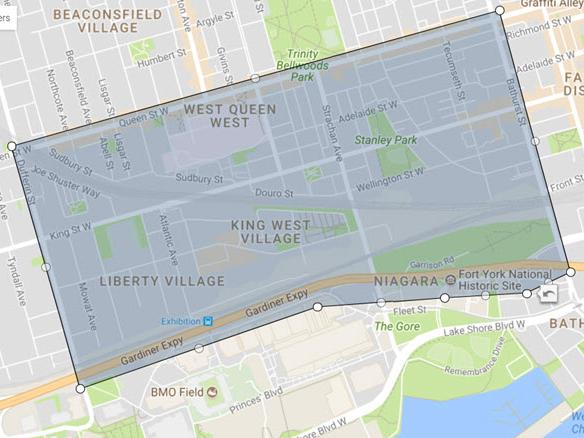 King West and Liberty Village
King West and Liberty Village
King West Village is one of Toronto's fastest growing neighbourhoods. It has been compared to the Soho neighbourhood in New York. King West Village:
Is especially popular with young urban professionals, both singles and couples, who desire an urban lifestyle close to their downtown offices and within walking distance of Toronto's entertainment district.

In addition to residential options King West Village also includes: commercial office space,

One of the most active nightclub and bar scenes in Toronto.
Provincial Secretary 
William John Hanna
 forced the closure of Central Prison in 1915, and all its buildings were demolished except for the paint shop and chapel. "Liberty Street", for which Liberty Village is named, was the first street both male and female convicts would walk once freed.
[1]
Other features:
Urban parks add some greenery

Clarence Square and St. Andrew's Market and Playground.

Runners, walkers and bikers will appreciate King West Village's proximity to the Toronto Waterfront Trail.

The Gardiner Expressway is also nearby, offering quick and easy access for commuters and travelers, coming and going from town. 
This is not the place for peace and quiet. King West is for those seeking a true downtown Toronto experience. There's:
The club scene is burgeoning and retail's on the rise, as well.

The area is also highly walkable with easy-to-access public transit and even a few great green spaces equipped with off-leash dog parks.
Real Estate
The options are vast in this neighbourhood, unless you're specifically looking for a house. There are hardly any here, and of the few that DO exist, many come with historical designations that you may flaunt or despise depending on your point of view. What's important is:
That the demographic in the neighbourhood is broad,

The condo offerings here have grown to meet the hugely varied wants of that vast socio-economic divide.
Schools
How to find the school closest to you!


Click on the link below to find the Public Schools closest to your home:
TDSB Find Your School
Click on this link to find the Catholic Schools closest to your home:
TCDSB Find Your School

Some Schools in the area include:
Givins-Shaw Jr. & Sr. School

Niagara Street Jr. School

Alexander Muir and Gladstone School

Hillcrest Jr. P.S.

Parkdale C.I.

West Toronto C.I.

A selection of alternative secondary schools