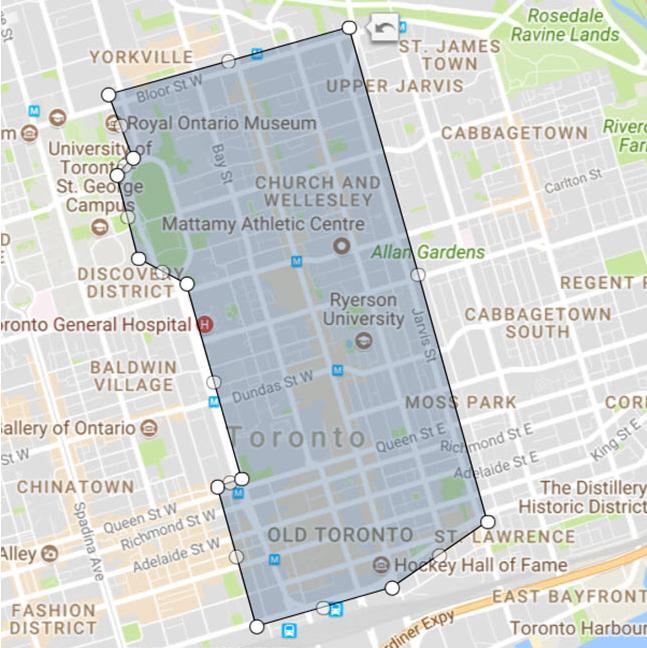 Central - Downtown
Downtown Central is one of Toronto's most densely populated neighbourhoods. It has the advantage of being located within walking distance of:
The Financial District,

The Discovery District,

The Hospital District,

Toronto City Hall,

Ryerson University,

The University of Toronto and downtown Yonge Street.
 The Bay Street Corridor has evolved into one of Toronto's prime condo markets which have attracted many young professionals to this neighbourhood. There is a strong international mix of both residents and investors in this neighbourhood thanks to the close proximity of the University of Toronto, the hospital district, and the Financial District. The nearby Bloor-Yorkville and Yonge Street shopping district as well as many amenities along Bay Street add a lot of jump and vitality to this newly gentrified downtown neighbourhood.

Sixty five percent of the people living in this neighbourhood fall between the working ages of 25 to 64! This is well above the Toronto average and sheds some light on the pace of life that exists here. A second boom in construction here began in the 90's which saw some of Toronto's most luxurious buildings built in the last 10 years, complete with plenty of glass, glitz and bragging rights.

The controversial Trump Tower, one of the tallest in the country, mixes luxury hotel and couture condo living along with some of the most extensive private amenities (and most significant price tags) in the city. 
Downtown Toronto residents come from a myriad of different backgrounds, and span the entire spectrum of the socio-economic scale.
There is a large number of rental accommodations in this neighbourhood. 
New condo developments are springing up all over the Church-Yonge Corridor which is gradually changing the character of this downtown neighbourhood from urban grit to City chic.

How to find the school closest to you!
Click on the link below to find the Public Schools closest to your home:
TDSB Find Your School
Click on this link to find the Catholic Schools closest to your home:
TCDSB Find Your School