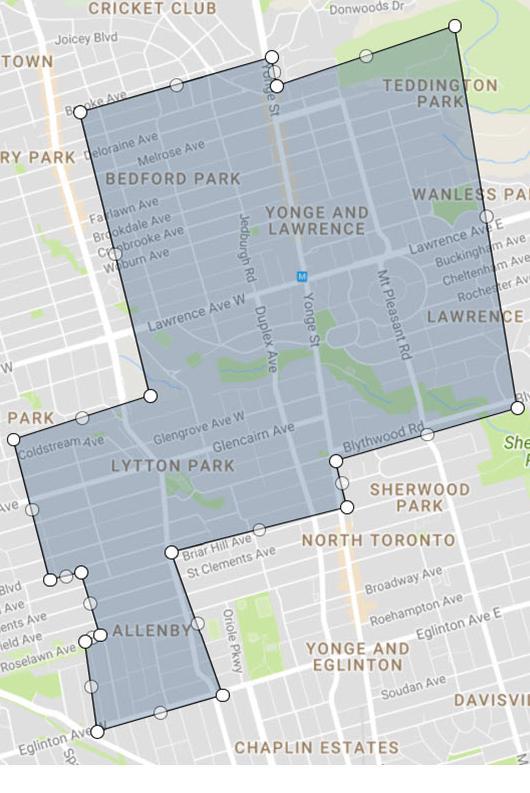 Central - Lawrence Park
Lawrence Park is one of Toronto's most exclusive residential neighbourhoods. It is located in a very peaceful and tranquil setting that includes gently rolling hills, winding roads and a lush topography.

Lawrence Park is also the wealthiest neighbourhood in all of Canada. Toronto, Canada's other wealthy neighbourhood's include Rosedale, the Bridle Path, and Forest Hill. This area was one of Toronto's first planned garden suburbs and so it is a dog owner's paradise. Here you will find a wide variety of home styles including English Cottage, Tudor Revival, Georgian and Colonial and while most of these homes were built between 1910 and the late 1940s, there has been significant redevelopment over the last 20 years.
Centred on Mount Pleasant Road, the neighbourhood grew slowly with medium-sized houses on narrow but deep lots. Full of beautiful homes, access to the city's best schools, centred around Mt Pleasant Road, and with convenient access to the city's core, it's easy to see why so many of Toronto's most famous people call Lawrence Park home.
Much of the retail of the neighbourhood is centred along Mount Pleasant Road as well as a successful commercial district along Yonge Street, north of Lawrence. There are many high profile restaurants in area, and the local shops include fashion stores, shops and children's stores, sporting goods stores, gift shops, bakeries and coffee shops.
The strength of the area remains its proximity to fantastic neighbourhood public and private schools, recreational facilities, easily accessible public transportation and quick access to Toronto's Highway 401.